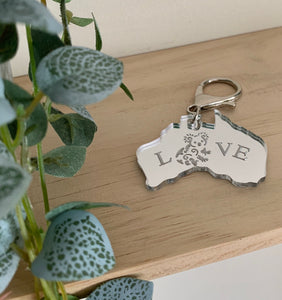 These laser cut/engraved acrylic keyrings were originally designed and made specifically to raise funds for those affected by the Australian bushfires. 
And now, in January 2023, $5 from every keyring sold will be donated to the Sapphires Dance Team, Mathis Dance Studio, to help fund the cost of sending the team and their coaches to represent Australia in The Dance Worlds in Orlando, Florida, in April 2023.  This is a once in a lifetime opportunity for the dancers!  I personally know one of the dancers and her mum, so this a cause very close to my heart. 

Currently, the cost of sending the coaches (approximately $15,000) is being paid in equal shares by each participating family which may mean for some dancers, that this dream is simply out of reach.  Let's help get them all there!  Every donation, no matter how small, will help!

Keyring measures 5cm wide.
* donations will be made periodically via a GoFundMe account set up by Carmen Craciunoiu on behalf of Mathis Dance Studio and on my Social Media