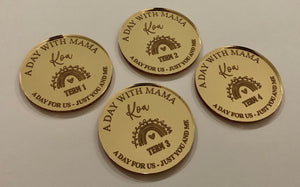 Oh my goodness - aren't these reward coins just the sweetest?! 
These coins are a special "currency" for you and your babies. Each term, your child may be rewarded with a personalised coin which means they have earned a day off school to spend with you - with nobody else and no distractions - just a special day together.
These coins may be made with any name/s you like (for example, they may actually from grandma, so the top can say "A DAY WITH GRANDMA").  Simply complete the required fields, including the child's name.
Cut from gold mirror acrylic. 5cm diameter.
Set of 4 coins.