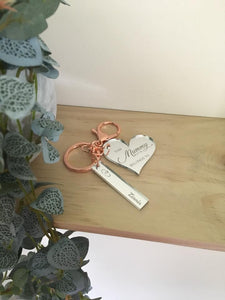 These silver mirror acrylic tags may be purchased to add to a preciously purchased heart shaped keyring with tags. 
Up to three childrens' names may be engraved on one tag. 
Tags measure 5cm x 1cm.
THIS ITEM IS FOR A RECTANGULAR ENGRAVED TAG AND ROSE GOLD JUMP RING ONLY.  HEART PIECE AND ADDITIONAL HARDWARE NOT INCLUDED.  SEE ITEM "BELONGS TO KEYRING WITH HEART AND TAG" FOR PURCHASE OF THE ENTIRE KEYRING.