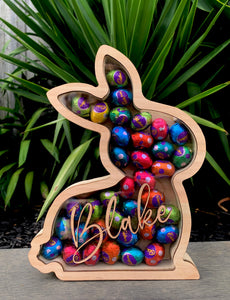 If you're looking for a unique, personalised and practical Easter gift, then this is it! 
These gorgeous freestanding wooden drop boxes can be filled with Easter eggs as a gift - and used as a money box thereafter.  They're cute, modern, reusable and an adorable decor piece too.
Made from a combination of wooden materials and clear acrylic, including stunning Eucalypt for the front border, name and the inside.
Measures 25cm tall x 19cm wide x 3.5cm thick.  Holds approx. 34 Cadbury mini eggs.
**Easter eggs not included