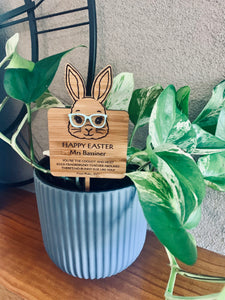 Ah, you've got to love a bit of daggy pun!
These bamboo laser engraved planter sticks are a great addition to an Easter gift for anyone - including teachers! They're personalised with both recipient and the giver's name. 

Simply pop the planter stick in a potplant, bunch of flowers or a basket/canister of eggs for a unique and meaningful gift.
Entire piece measures approx. 18cm long including the stick.
Cut from eco-friendly bamboo with acrylic sunnies in your choice of colour.