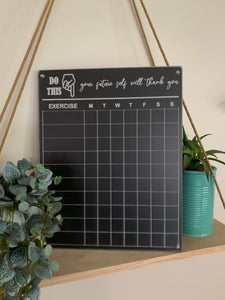 Life's so busy these days and if you're anything like me, despite having the very best intentions, you crawl into bed at the end of the day and then realise you haven't done a workout.
This planner has been designed to be your visual reminder - to help keep you accountable.
Material: clear acrylic with a black backing board and magnets (so it can be kept on the fridge if you choose). 
Size: roughly A4
Whiteboard markers or chalk pens work a treat, and simply rub off with a soft cloth, so your planner can be updated and used time and time again.  The black acrylic is placed behind the acrylic purely for aesthetics and to help make the text pop.   
The clear acrylic is engraved on the back, so there's no need to worry about any colour from your markers staining the engraving.