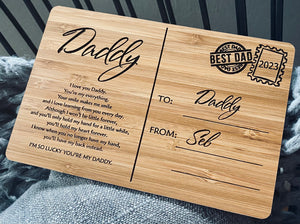 What do you buy for the person who already has everything and doesn't really need any more 'stuff'?  Or more clutter?  These postcards are perfect!  They are a beautiful keepsake and can be displayed on a small table or fireplace, etc, without adding to clutter.  Just a beautiful, yet subtle, sentimental touch - something that will make them smile every time they walk past it. 
These postcards measure 150x95mm, the same size as a standard postcard.  They are cut from eco-friendly high quality bamboo and are personalised with the names you need.
For an extra touch, you could handwrite a message on the back.
They're perfect for a birthday, Father's Day or "just because" gift.
May be changed from Daddy to another word if needed - and custom text is available upon request.