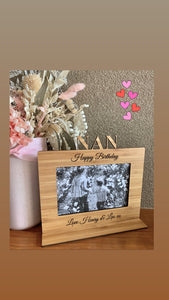 These eco-friendly bamboo laser cut/engraved frames are just gorgeous.
The simple design is easy to put together.  The main piece simply slots into the stand and the photo and backing board are held in place simply with blu tak, 3M strips, double sided tape or the like.  This makes for easy assembly and changing over of the photo.
Fits a 4" x 6" photo.  Any word/name may be placed up the top.
Custom sizes available upon request.
Custom wording available upon request - simply pop a note at checkout.