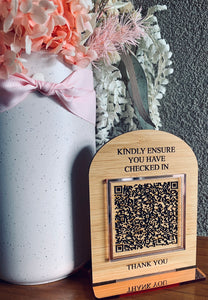 With Government regulations requiring customers to check in at a business regardless of the length of time spent there, maybe it's time to update your signage?  I can create something far more eye-catching than a poster for you!  Whilst I have other options for larger signage for your door, wall or counter-top, these "mini" signs are also available. 

The signs measure approx. 12x9cm diameter and were originally designed for a salon to place in front of the mirror of each station. 
These signs are made from a combination of bamboo and acrylic.  You may choose the colour acrylic to match your current decor/taste. 
After ordering, please email your unique QR code to info@butterflykisseswallart.com or send a message via www.facebookcom/butterflykissewallart.
**custom shapes (eg, rectangle or square), custom wording and custom colours (for the 3D square around the QR code and the stand) are available - please email info@butterflykisseswallart.com to discuss your options/requirements
**bulk orders welcome - please email info@butterflykisseswallart.com or send a message via www.facebookcom/butterflykissewallart to discuss a bulk price