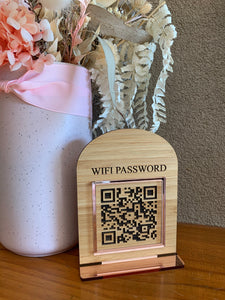 Locating and typing cumbersome wifi passwords can be frustrating! Make life easier when you're connecting new devices or have guests wanting to connect by creating a QR code and having it engraved on a gorgeous decor piece!
These are also perfect for accomodation venues, salons, restaurants, offices and other places where you allow guests access to your wifi but require a password.  
The bamboo sign measures approx. 9x7cm and comes with an acrylic stand and acrylic feature detail.
After ordering, please email your unique wifi QR code to info@butterflykisseswallart.com or send a message via www.facebookcom/butterflykissewallart.
Note - there are a number of resources online to assist you to create your QR code (this service is not offered as part of ordering this item)
*custom shapes (eg, rectangle or square), custom wording and custom colours (for the 3D square around the QR code and the stand) are available - please email info@butterflykisseswallart.com to discuss your options/requirements
**bulk orders welcome - please email info@butterflykisseswallart.com or send a message via www.facebook.com/butterflykissewallart to discuss a bulk price