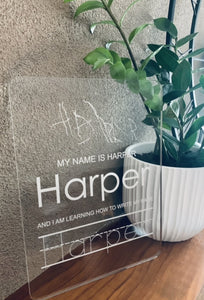 These personalised reusable 'trace and wipe' boards are an excellent learning tool for your little one.  An image of the way they currently write their name is engraved and thereby provides a visual of their progress (as well as a sentimental keepsake). 
* Cut from sturdy 6mm clear acrylic
* Measures 255mm x  195mm 
* The detail is engraved on the back, in reverse, therefore the front is smooth and residue from the chalk pens or markers will not stain the engraving
* Suitable for chalk pens or whiteboard markers
After ordering, please email a clear image of your child's handwriting to info@butterflykisseswallart.com.  Photographs of writing in black text on plain white paper (not lined paper) work best.  Please avoid shadows in the photograph or folds in the paper.