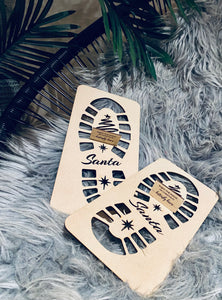 Imagine the look on your little ones' faces when they wake up on Christmas morning to find that not only has Santa been, but he's left behind bootprints!  It'll  be sure to add a little extra magic to their morning!
Each rectangular stencil measures 28x14cm (bootprint measures approx 25x11cm). 
Includes a little tab for easy lifting off the floor!
Set includes a left and right bootprint. 
*please note that this will be sent without the tab glued in place, so it can be kept flat for posting - simply use a little super glue to keep it in place :)