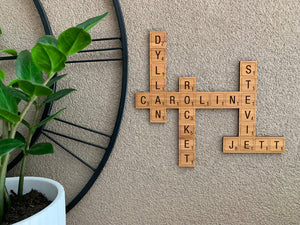 If you're looking for a wall art piece with a difference, and one that makes a statement and is unique for your family, this laser cut and engraved scrabble piece is perfect!
You simply provide the names/words and let us do the rest.
Cut from quality eco-friendly bamboo. 

Please note the size is a guide only and each arework will be unique and differ based on the way the names/words fit together. Some artworks will be landscape, some portrait and some more of a square design.
For example, the 20cm size will not exceed 20cm in height or width.  The tiles will be scaled accordingly to fit the artwork size selected.   
A draft of your design will be provided for approval prior to cutting.