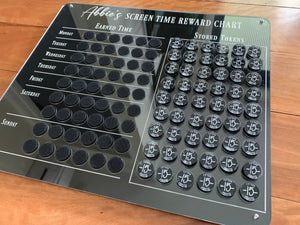 2020 threw so many challenges at us and we all coped in the best way we could.
For so many households, this included an increase in screen time for their children and as a result, it has become a challenge to scale back that screen time.  
This screen time reward chart has been designed with that in mind. With each token representing a 15 minute increment, you can come up with a daily screen time amount that works for you and your family and allow your child to earn that time.
The chart is versatile in its use - giving you the ability to "take back" screen time earned if you wish by moving move discs back to the 'stored tokens' area.  This can also be done, if you wish, as screen time is redeemed.

Made from a combination of clear and black acrylic and magnets for placing on a whiteboard or fridge.
Strong Velcro holds the discs securely in place.
Measures 40x35.5cm 
 ** contains small parts
** not advised for used by children under 3 years of age