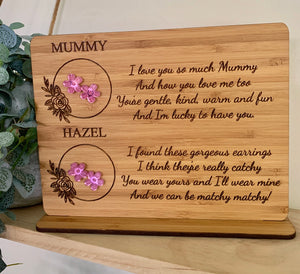 If you're looking for a gorgeous, practical and unique gift for Mother's Day, or a birthday - or simply just because, then look no further! 
This stunning plaque, and stand, is cut from eco-friendly bamboo and personalised with both your child's name and the recipient's name.  And the best part?  Those little flowers in the corner are actually pink mirror acrylic earrings/studs!  They're easily removed from the plaque to be worn and then easily put back to be carefully stored and displayed. 
The plaque measures 190x140mm and the earrings measure 13mm wide. 
** the recipient and child names can be changed to anything you like - Mum, Mummy, Nanny, Nanna, Aunty... or any name.... absolutely anything! Just pop the details with your order!