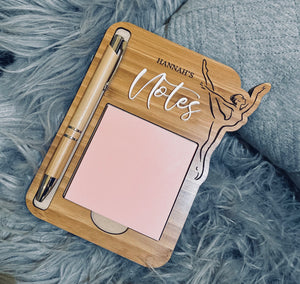 If you're looking for a unique, personalised and practical gift for a dance lover or teacher, perhaps this is it.  There's nothing better than being organised and items having their 'place' so you always know where to find them. 
Made from quality bamboo and white acrylic.
Bamboo pen and one sticky note pad included. Sticky note pad colours available are pink, lilac, mint and lemon and will be selected randomly when packing your order.
Measures 137x170mm.