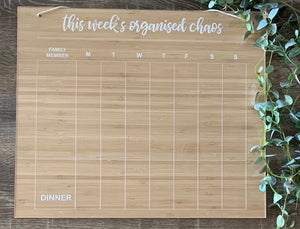 Life's so busy these days and it really helps to have the visual reminder of where everyone needs to be, and when, and somewhere to pop reminders of those little bits and pieces that can so easily be forgotten. 
This "weekly" planner is the perfect way to organise each family member - and it's a lovely decor piece too. You can even colour code it!

This stunning and practical piece is made from eco-friendly bamboo, and clear acrylic, and measures 46x39.5cm. 
Whiteboard markers work a treat, and simply rub off with a soft cloth, so your planner can be updated and used time and time again. 

The clear acrylic is engraved on the back, so there's no need to worry about any colour from your markers staining the engraving. 

Also available as a "monthly planner".