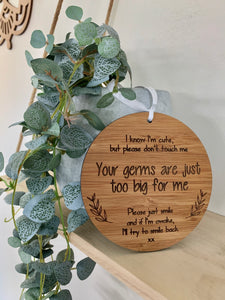 So many of us are just drawn to babies and toddlers and like to engage and interact whenever we can - whether we know the family or not. Whilst this is often a beautiful thing, at times it can be frustrating when strangers don't ask before getting too close or even touching our little ones' hands and faces while interacting with them.
Keeping our little ones safe and protecting them from germs is our number one priority at all times, however during the Covid-19 pandemic this issue is on the forefront of our minds even more so.
With that in mind, I designed this eco-friendly bamboo laser engraved plaque to hang off your pram/stroller.
Size: 10cm diameter